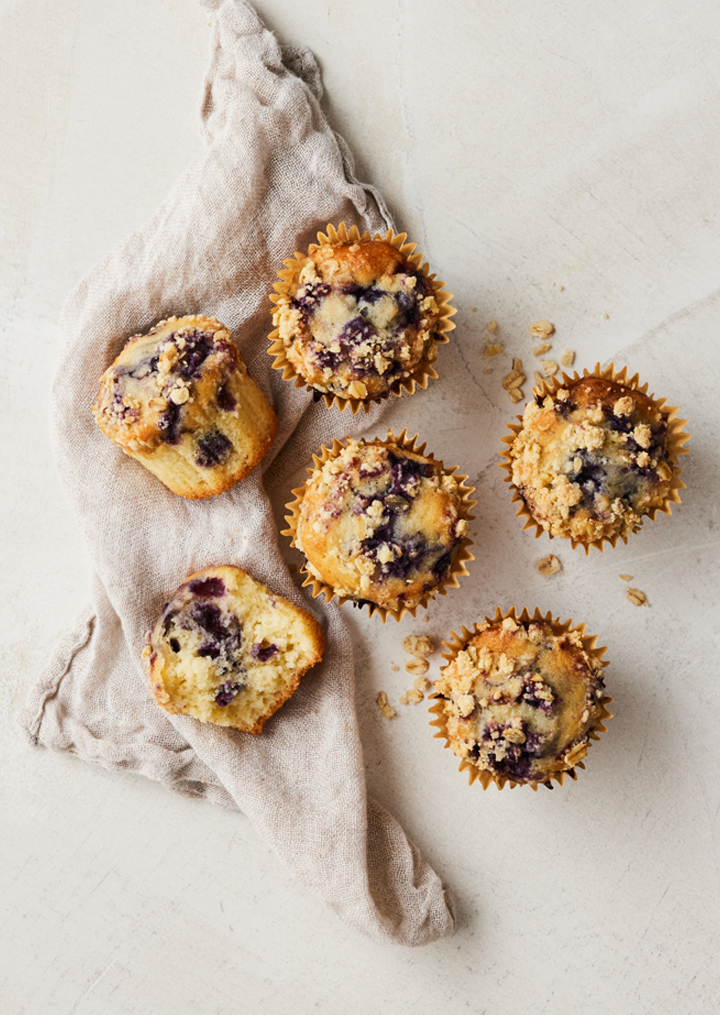 American style muffins with blueberries and crumble
American style muffins based on the vegan soft cake blend with a sweet taste with a hint of vanilla and a fantastic moist crumb. Here combined with fresh berries and vanilla crumble wihich gives a tasteful muffin. The CREDI® Cake Vegan Neutral blend can be used for a large variety of inspiring soft cakes and muffins. Just add your own favourite berries, nuts or chocolate chunks to create more variation and inspiration.
RECIPE
BLUEBERRY MUFFINS WITH VANILLA CRUMBLE
1,000 g CREDI® Cake Vegan Neutral
200 g Vegetable oil
450 g Water
200 g Frozen blueberries
VANILLA CRUMBLE
200 g Sugar
200 g Flour
150 g Pastry margarine 
100 g Rolled oats
8 g Vanilla sugar
Mix all the ingredients to a light crumble using a flat beater.
WORK DESCRIPTION
Mix cake mix, oil and water for 5 minutes on low speed with a flat beater. Add the blueberries carefully into the batter at the end. Scale off the batter at 70 g into muffin wraps or baking treys 50x36 mm. For decoration top the muffins with blueberries and sweet vanilla crumble. Bake at 190 °C for 25 minutes the last 5 minutes with an open damper.