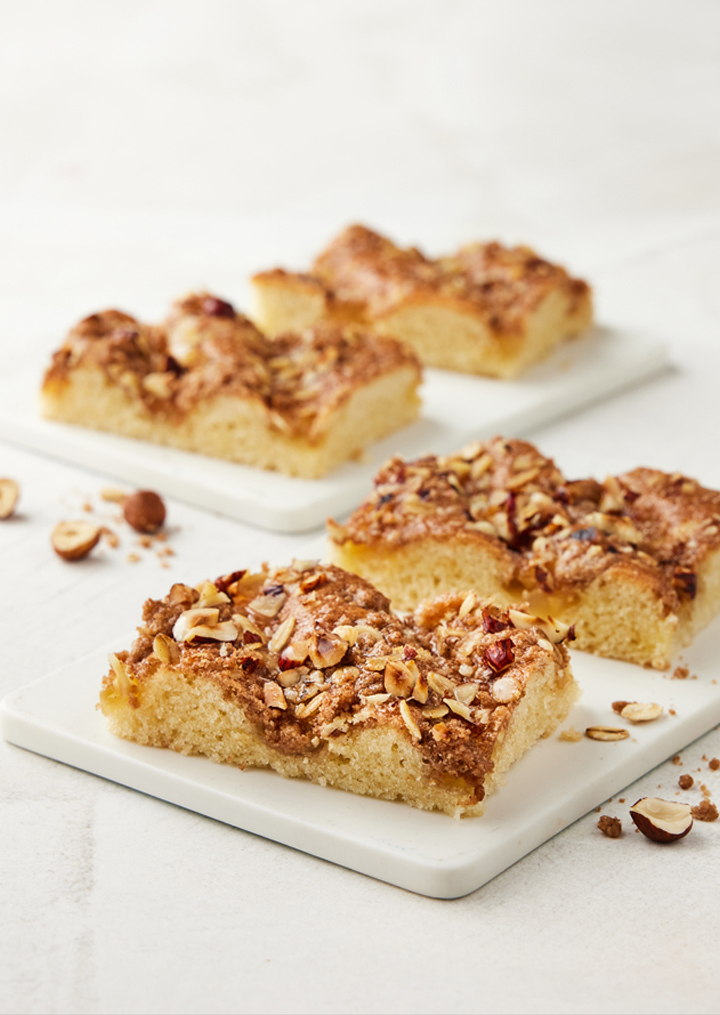 Sweet soft cake with apple and cinnamon
The vegan soft cake has a sweet taste with a hint of vanilla and a fantastic moist crumb. Here combined with fresh apple fruit filling and cinnamon crumble which gives the soft cake structure and a fantastic taste. The CREDI® Cake Vegan Neutral blend can be used for a large variety of inspiring soft cakes. You only have to add vegetable oil and water to the blend and you are ensured a uniform batter with a high viscosity. Add your own favourite berries, nuts or chocolate chunks to create more variation and inspiration. 
RECIPE
SWEET SOFTCAKE WITH APPLE AND CINNAMON CRUMBLE
1,500 g CREDI® Cake Vegan Neutral
300 g Vegetable oil
675 g Water
600 g Apple fruit filling


CINNAMON CRUMBLE
200 g Flour
100 g Sugar
100 g Brown sugar
200 g Rolled oast
150 g Pastry margarine
5 g Cinnamon
Mix all ingredients to a light crumble using a flat beater.
WORK DESCRIPTION
Mix cake mix, oil and water for 5 minutes on low speed using flat beater. Scale off the batter at 2,475 g into a baking tray 46x60 cm and level the batter. Make diagonal stripes of apple fruit filling on top of the batter. Sprinkle the cinnamon crumble 500 g on top of the batter and the apple fruit filling. Bake at 180 °C for approx. 25 minutes the last 5 minutes with an open damper. After baking cut in squares.