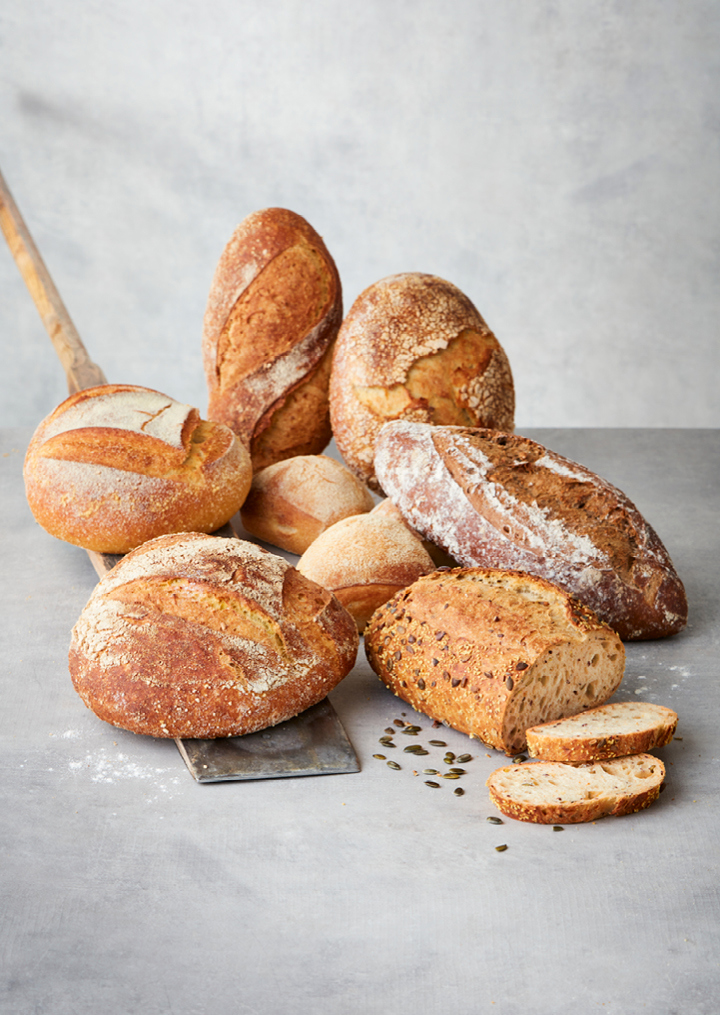 Bread Concentrates
We have a wide range of concentrates for high quality bread, morning rolls and baguettes. The concentrates are the base and ensures character and a perfect taste experience. It is very easy to create large variety and bread of high quality. All our concentrates ensures unique baking performance and uniform quality. A quality result every time.
More about our bread concentrates:
God dough stability during mixing and processing
Various from 5% to 50% based on flour
Based on selected flour types and kernels, seeds, malt and sour dough to create flavour and crumb
High uniform quality bread types with excellent taste and crumb structure
Secure production with less scaling of many raw materials
We offer 100% premixes which are total Gluten Free
A selected range of our assortment:
PASCO Ciabatta Conc.
Concentrate for Ciabatta based on wheat sourdough. Dosage: 15%
MultiBase Mediterranean Conc.
A special mediterranean style concentrate for rolls, baguette, foccacia, pizza etc. Contaning durum flour, olive oil, wheat sourdough. Dosage 15%
JUST4TASTE Sourdough and Malt Conc.
Wheat sourdough and malt concentrate. Dosage: 20%
JUST4TASTE Potato Conc.
Potato bread concentrate for making nice tasty buns bread - artisan style. Dosage: 33%
JUST4TASTE Malt Conc.
Malt bread containing soya, linseeds, sunflower seeds and malt. Dosage: 30%
JUST4TASTE Multi Grain Conc.
Dark malty blend. Dosage 30%
JUST4TASTE Pumpkin Conc.
Concentrate for artisan pumpkin bread and soft buns. Dosage 30%
JUST4TASTE Kernels Conc.
Artisan bread concentrate of barley, soya grit, linseed and sunflower seeds. Dosage 50%
JUST4TASTE Corn Conc.
Sweet corn brerad concentrate with a nice yellow crumb. Dosage 50%
JUST4TASTE Protein Conc. U.S.
High protein bread concentrate used for morning rolls, soft buns, artisan bread, panini and sliced bread. Dosage 50%
CREDI Ferment 
A high-end bread mix which gives your bread a rich flavour of sourdough and a nice crusty crust. The bread mix is based on fermented flour and sourdough. Dosage 100%
Contact us for more information about our Bread concentrates or if you need help tailor a product for your production.